Introduction
I've been a shareholder of Pioneer Natural Resources (NYSE:PXD) for a few years, as it has always been one of my favorite plays to benefit from the new post-pandemic era of oil and gas. However, I always kept the stock in my trading account, as I was planning on eventually selling it.
I changed my mind.
Not only did I put the stock in my dividend (growth) portfolio, which consists of more than 90% of my net worth, but I also made it one of my largest position after selling Exxon Mobil (XOM).
Earlier this month, I wrote an article titled That One Big Reason To Sell Exxon, where I explained my intention to focus more on dividends in the energy sector.
That said, Exxon is now at a point where it has too much cash. It needs to make a decision. While it will refrain from aggressive dividend growth or special dividends, it will likely have to go with an acquisition to add new high-quality inventory to its business and benefit from valuation opportunities.

[…] We're at a point where income-oriented investors might have to go with a different stock that prioritizes cash distributions over indirect distributions via buybacks.
While Exxon is a better stock for investors looking for consistent income growth, Pioneer is one of the best stocks to benefit from what I believe will be a long-term energy bull case. The stock has it all. It has high-quality reserves, efficient operations, a terrific balance sheet, and a dividend-focused distribution policy that showers investors with cash at elevated oil prices.
In this article, I will walk you through my t thoughts and explain why I'm now overweight in PXD.
So, let's get to it!
Why I Care About Cash
Energy has become a cornerstone of my research since the 2020 pandemic. I've written countless articles explaining and updating my long-term thesis.
Essentially, my thesis is built on a few pillars:
I believe that long-term oil demand will remain strong. While demand growth is slowing, emerging markets will offset any declines in developed nations until at least the 2050s.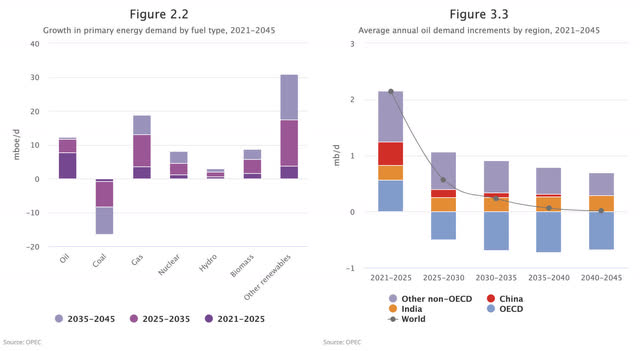 While I do not subscribe to the thesis that the world is running out of oil, I believe that we're in a situation of significantly slowing supply growth. This is due to mounting pressure from Western governments and the implementation of various ESG (environmental, social, and governance) initiatives on industry financing. The combined efforts of insurance companies, banks, and governments are creating a scenario where oil companies are opting to curb their supply growth to ensure a stable pricing environment. The companies are afraid that any downturn in prices could leave them vulnerable, as they may not have access to external financing.
Related to the point above, shale drillers in the United States are running out of high-quality reserves. The shale revolution, which allowed producers to boost tight oil production from less than 500K barrels per day to more than 8 million barrels per day, is ending.
As the chart below shows, unconventional oil production in the United States hasn't grown since 2020. Prior to that, production growth was so remarkable that we might read about it in future history books.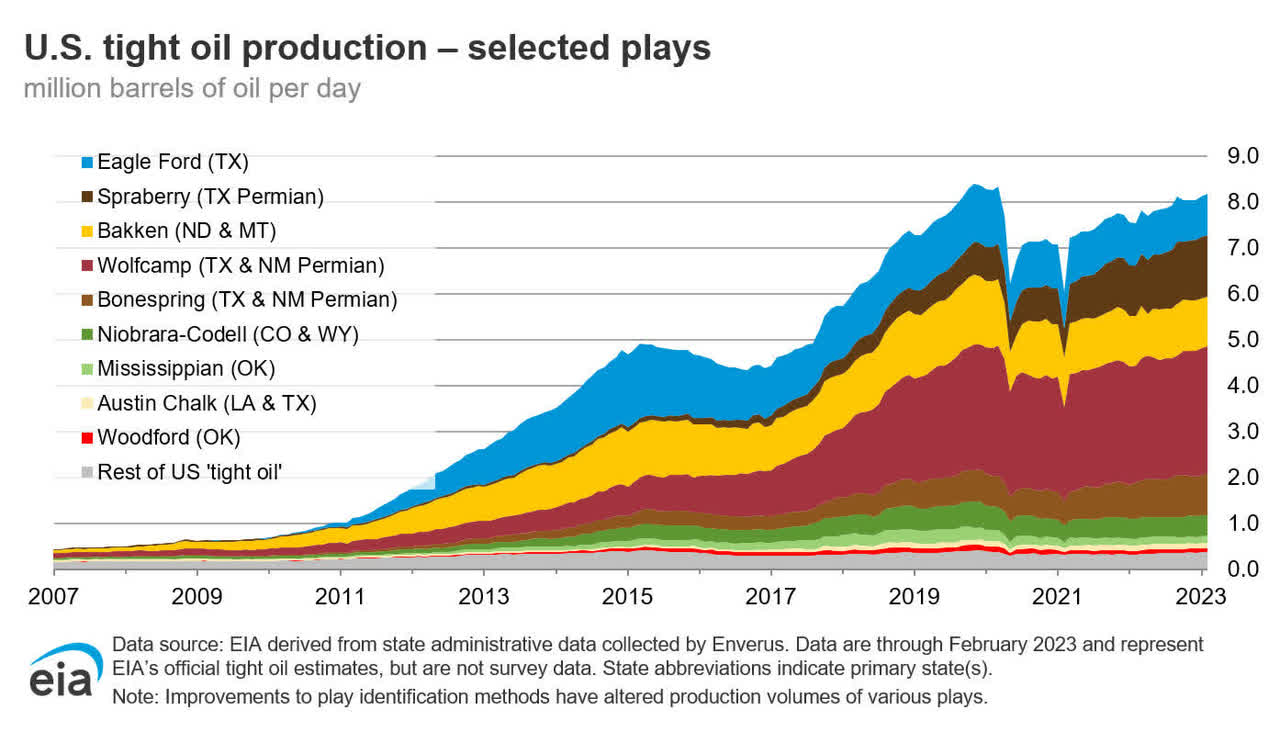 On a side note, here's a map of the locations of the major basins in the lower-48 states.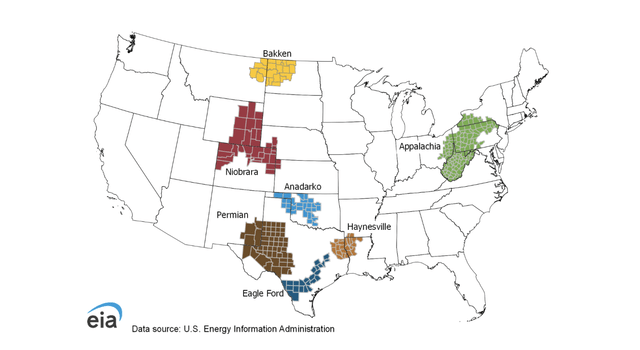 Furthermore, the chart below shows that production is actually declining when excluding the mighty Permian basin. On an ex-Permian basis, production growth has been flat for roughly ten years.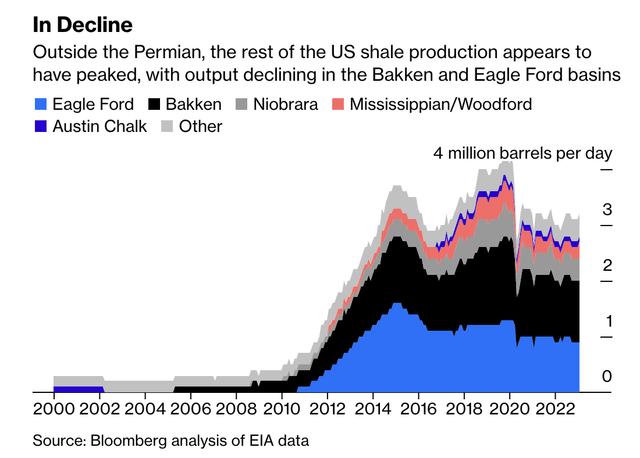 The worst part (for affordable energy prices) is that even the Permian is now seeing slower growth. While the basin keeps making new highs, it is increasingly tough to support production growth. Looking at the most recent report (the one below), we see that production from new wells is hardly offsetting the production decline from legacy wells.
I ran my theory by a few people with way more knowledge of the industry than me, who all agreed with me that even the best basins are now seeing slower growth.
With that said, I believe in a long-term oil bull case with triple-digit dollar oil prices in a situation of rebounding economic growth.
In that situation, I want oil companies with deep, high-quality reserves to prevent them from being forced into risky M&A to maintain production. I also want efficient drillers who are able to generate high free cash flow. These companies should also prioritize dividends, as I am convinced that energy will be a cash machine for the next few decades. I want to benefit from that through (special) dividends.
However, please be aware that my long-term thesis comes with volatile declines. Right now, WTI is back in the low $70s range, caused by economic fears.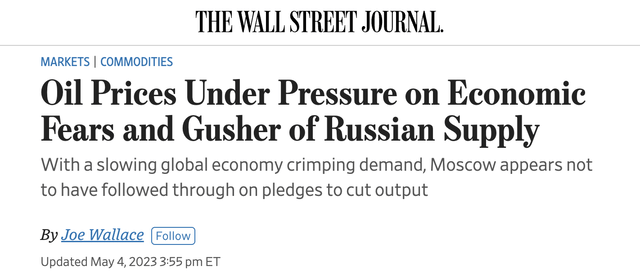 As anxiety about the economy mounted, West Texas Intermediate futures, the U.S. oil benchmark, slid below $70 a barrel this week for the first time since late March and are approaching their lowest levels since the run-up to the Ukraine war.

[…] Adding to the pressure on prices, "there's a slowdown in industrial demand, certainly on the Western side of the equation," Mr. King said.
While the current price decline is hurting the current value of my energy investments, it offers us new opportunities to add high-quality energy exposure.
One of these opportunities is the start of this article: Pioneer Natural Resources.
Why I Believe Pioneer Is Superior
Technically speaking, I cannot say that Pioneer is the best driller in North America. It's impossible to call a winner, as producers differ a lot. The oil/gas mix often differs, dividend/buyback policies are different, and so much more.
While there are a number of energy stocks that I like (and own), I decided to make PXD my largest position.
This Texas-based driller produces in the Cline Shale, which is part of the mighty Permian.
On a full-year basis, the company aims to produce between 670 and 700 thousand barrels of oil equivalent per day. This includes up to 372 thousand barrels of oil per day. The company expects to operate between 24 and 26 drilling rigs and place between 500 and 530 wells on production in 2023, with approximately three drilling rigs operating in its joint venture area in the South.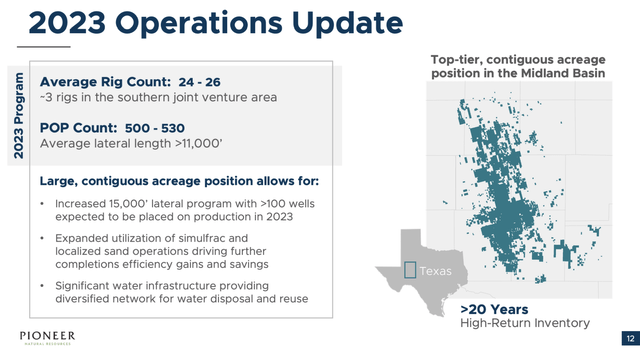 With regard to my inventory/reserves comments, in the Permian, the company has more than 20 years' worth of high-quality inventory with a breakeven oil price of less than $50 WTI. This beats any Permian competitors, and it's one of the reasons why rumors are that Exxon might try to buy Pioneer at some point in the future.
Furthermore, the company has strong price realization thanks to its efficient operations. It has industry-leading production margins.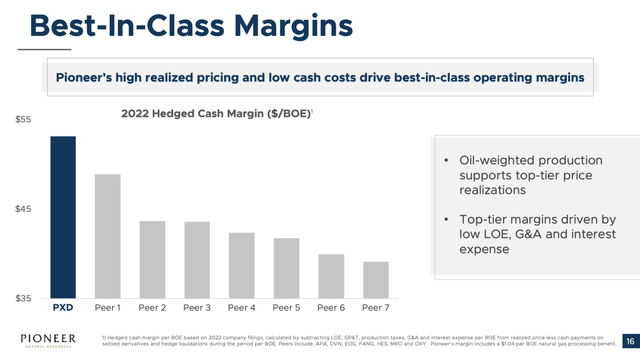 Thanks to these margins, the company believes that it can generate $27 billion in cumulative free cash flow over the next five years at $80 WTI. That would translate to 56% of its current market cap (11% per year).
Even at $70 WTI, that number would be $13 billion, or 27% of its market cap.
Not only am I bringing this up to show how efficient PXD is but also as a segway to its shareholder commitment.
The company's (modified) capital framework allocates 75% of quarterly free cash flow for capital returns, with the remaining 25% for increasing financial flexibility and strengthening the balance sheet. The company is expected to end this year with a net debt ratio of just 0.5x EBITDAX, which provides it with the ability to prioritize shareholder distributions over debt reduction.
With its capital framework, the company aims to provide maximum value to shareholders by dividing the capital returns between variable dividends and share repurchases.
The company's base dividend is consistently rising, yet not high.
In 1Q23, Pioneer Natural Resources increased its quarterly base dividend by 14% to $1.25 per share, or $5 per share on an annualized basis. This is the sixth consecutive year of base dividend increases. The new dividend yield is above 2%, surpassing the average S&P 500 dividend yield.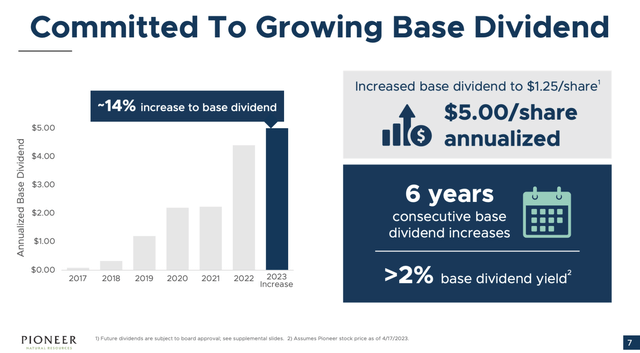 Furthermore, the company has repurchased $2.1 billion in shares since the beginning of 2022, reducing the share count by about 4%. The Board of Directors approved a new $4 billion share repurchase authorization, replacing the previous authorization with $1.9 billion remaining.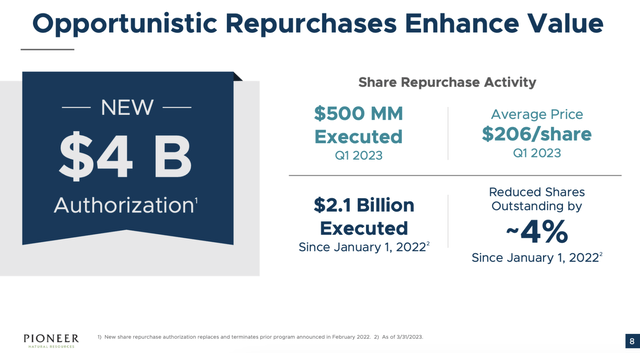 With that said, the company's 2Q23 dividend will consist of its base dividend and a juicy variable dividend.

As the overview above shows, investors will receive $3.34 per share, which translates to an annualized yield of 6.5%.
The base dividend is fixed. The variable dividend is 75% of free cash flow after accounting for the base dividend.
Please note that the numbers below are just estimates of mine based on the current dividend policy and company guidance. I estimate the following potential dividend yields based on the current stock price:
$100 WTI: 14%
$80 WTI: 9%
$60 WTI: 4.5%
This is based on the company's expected long-term cash flow based on various oil prices and its base/special dividend policy. In 2Q23, total dividends accounted for 82% of total free cash flow.
As a result of the company's many qualities, it has been a steady outperformer. I expect that to continue, regardless of whether my oil thesis turns out to be correct or not.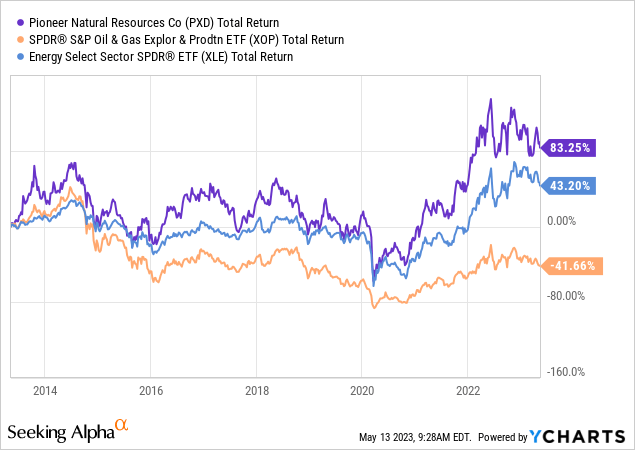 I also believe that investors will start to rush back into energy the moment economic demand supports a bottom in oil prices. As the overview below shows, the company offers an attractive return on capital (thanks to its operations) and an attractive (both outright and relative) valuation.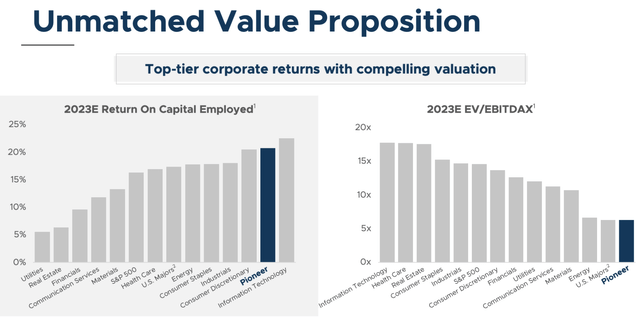 With all of this said, here's my takeaway.
Takeaway
In this article, I explained why I shifted money into Pioneer Natural Resources, making it my largest energy position.
I expect oil prices to remain in a (volatile) long-term uptrend, fueled by consistent demand growth and constrained supply.
Given this situation, PXD is a fantastic way to generate wealth. The company has high-quality reserves, efficient production, a healthy balance sheet, and a shareholder-friendly capital plan consisting of a base dividend and juicy special dividends.
While oil prices are likely to remain volatile and subdued until economic demand bottoms, I am extremely confident that Pioneer Natural Resources is a fantastic way to generate long-term wealth and income.
I'm adding to my position on any major weakness.